Grand Excelsior Hotel - Al Barsha
The best Hotel in Al Barsha Dubai
Discover Our Best Facilities
Luxury dining In Al Barsha
01

A'La Grand
Enjoy cuisines from around the world at the hotel's all-day dining restaurant. Located just off the lobby A'La Grand offers international buffets for breakfast, lunch and dinner daily.
02

Sherlock's
The detective-themed pub packed with all the character of a traditional English tavern. Dark wood panelling on the walls and handcrafted leather sofas and chairs provides a cosy and welcoming venue to meet for lunch or dinner daily.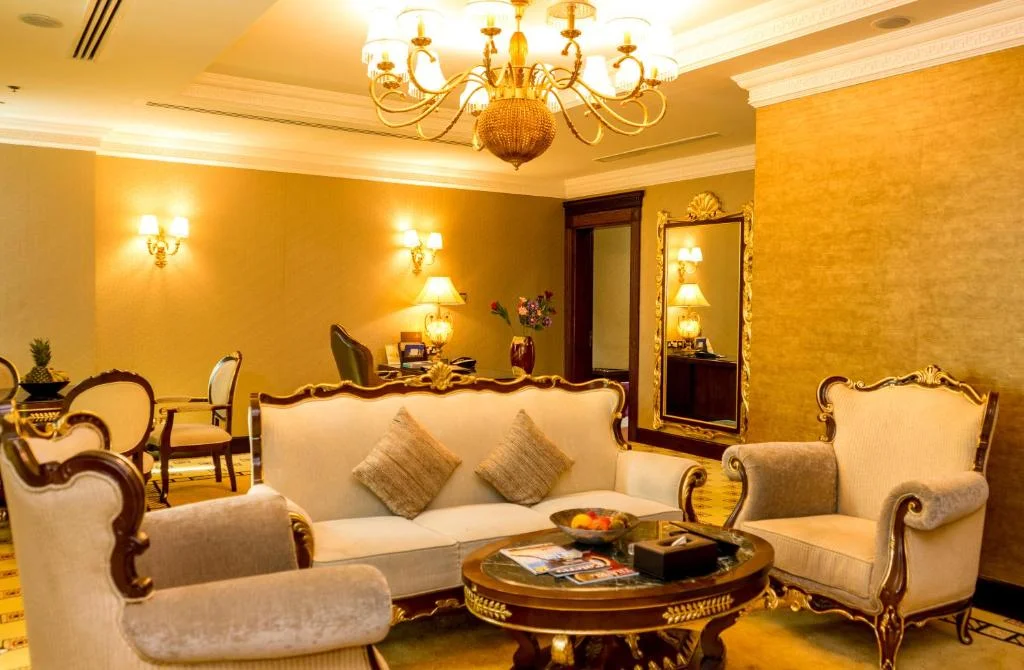 Frequently Asked Questions
Is there a swimming pool available for guests at Grand Excelsior Hotel Al Barsha?
Yes, our hotel features a spacious swimming pool where guests can relax and unwind.
What are the hours of operation for room service?
Our room service is available around the clock, 24/7, so you can enjoy a meal or a snack in the comfort of your room at any time.
How often is housekeeping service provided during our stay?
Our housekeeping team provides daily room cleaning and turndown service to ensure your room is always fresh and comfortable.
Can I book spa treatments in advance, and what services are offered in the spa at Grand Excelsior Hotel Al Barsha?
Yes, you can book spa treatments in advance. Our spa offers a range of services, including massages, facials, and body treatments. Please inquire about specific services and availability.
What options are available for dining at Grand Excelsior Hotel Al Barsha, and do you cater to special dietary requirements?
We have multiple dining options, including restaurants and room service. We can accommodate various dietary requirements, such as vegetarian, vegan, or gluten-free. Please inform us in advance.
Our Blogs
Stay up-to-date with our promotions and special offers for the ultimate Dubai experience at a great value. Join us as we explore this vibrant city!
Every Thursday and Friday night, groups of six or more receive a complimentary bottle of our house-specialty non-alcoholic sangria.
Start your day the Excelsior way with an extravagant breakfast buffet featuring international cuisine, live cooking stations, and a range of healthy options
Revel in the breathtaking Dubai skyline at our rooftop lounge. As the sun sets, enjoy a selection of gourmet bites and refreshing beverages.
Embark on a gastronomic journey featuring a curated 5-course dinner highlighting traditional Emirati cuisine fused with contemporary flavors. Each dish is paired with a non-alcoholic drink crafted to complement the exotic flavors.
Welcome to Grand Excelsior Hotels group Dubai, where we offer an unforgettable luxury experience for all our esteemed guests.
@Grand Excelsior Hotel - Al Barsha
Be inspired and enriched by the creative vision and artistic expression on show.